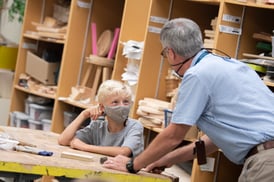 In order for a child to be successful later on in life, there are several things we as educators need to think about: the child's growth and development, their disposition, and the building blocks of education such as literacy and math. But how do we allow children to be children for a little while longer? I had the honor and privilege of speaking with Mark Mortensen, a cross-divisional woodshop teacher armed with a rubber thumb (yes, a rubber thumb) and a heart of gold.
Meeting Mark Mortensen
For nearly 30 years, Mortensen has been teaching third- through eighth-grade students the fine art of woodworking—an academic pursuit that has gone by the wayside in most schools—and has a unique perspective on how childhood honored is experienced by Peck students across divisions over the last three decades.
As a new staff member, I was introduced to Mark this year via a story involving a prop thumb and a hammer—he was teaching his students how to be safe in a woodshop environment, and his classroom was erupting with laughter!
"That's another thing I endeavor to do—to be an entertainer—and the kids tell me 'You know, you should be an actor!' and I just say, 'Well, I'm a teacher.'"
And entertaining he is! One of the ways Mortensen and his fellow Peck faculty honor childhood in the classroom, and how we honor childhood at Peck, is through joy. One place that's filled with joy is always the woodworking studio merely by the fact that students transition from the classroom rigor of worksheets and textbooks to getting their hands dirty and collecting sawdust to create something with their hands.
"Kids love exploring," Mortensen said. "The woodshop provides an opportunity to let go of some of the structure that might be present in other subject areas. [They] exercise different muscles, and really express themselves in new ways."


Honoring Childhood in the Upper School
While creative play and time for open-ended exploration seem like obvious methodologies in Lower School (Gr. K-4) environment, how is childhood honored in the Upper School?
"At Peck, we give permission for the kids to be kids. We provide an environment for discovery and they are allowed some latitude to explore in a way that is still kid-like." For example, fifth-graders imaginatively transformed sawdust in cheese and turned a cleaning activity into a game.
While games and having fun are an integral part of childhood (and adulthood in my opinion), childhood is also about experimentation, self-discovery, and learning the resilience and grit that comes from failure in a safe environment. In the Upper School, the eighth-grade capstones provide just that.
The Capstone Project is a culminating experience for a Peck eighth-grader in which they design and execute an independent study project of their choosing. This year-long endeavor provided an opportunity for students to stretch their creativity, problem-solve, and explore areas of personal interest and passion. Given their strong foundation, many students design woodworking projects for their Capstone.
"I had a student who was a huge baseball fan and wanted to test if different species of wood in a baseball bat would affect the delivery of a ball," Mortensen said. "He made a bat out of ash and acquired a maple and aluminum bat. He tested all three of them by tying a ball on a string and bouncing the ball with each type of bat."

Conclusion
Mortensen is just one of the wonderful educators at Peck, and his woodshop classes are an avenue for children to be expressive and be kids for a little while longer. But woodshop classes are just one example of the ways we intentionally provide the time and space for children to grow and learn. Growth begins on the playground during daily recesses through eighth grade, to our family-style dining where we sit and learn from our peers, our electives and activities blocks, and through our Peck Enrichment Program. We know that the door to exploration and discovery is unlocked with play and childhood curiosity. By learning through imagination and growing with their friends and Peck family, we intentionally nurture their childlike nature, which will carry them well into adulthood.
"Peck does a really good job of allowing kids to be kids," Mortensen said "Our students know that they are valued, and they know that the teachers, staff members, and friends surrounding them care."