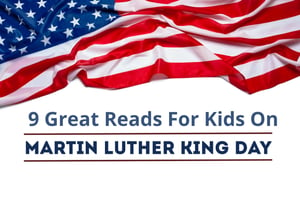 As a mom of two young children, I am blessed to work in a school where I have access to top-notch faculty at one of the nation's premiere independent schools for children in kindergarten through eighth grade. I often ask them for recommendations for my kids: what's the best way to nurture my 5-year-olds budding interest in art? How do I raise my daughter to be confident and independent? How do I talk to my kids in an age-appropriate way about Martin Luther King Jr. and why we celebrate MLK Day? Since many of you may also be asking yourself this last question, we've compiled a list of book recommendations from our expert Peck faculty. Enjoy!
I am Martin Luther King, Jr. by Brad Meltzer
Recommended for ages 5-8
From the Publisher: This New York Times bestselling biography is part of the Ordinary People Change the World series which inspires kids to dream big, one great role model at a time.
Martin's Big Words by Doreen Rappaport
Recommended for ages 6-8
From the Publisher: This picture-book biography is an excellent and accessible introduction for young readers to learn about one of the world's most influential leaders, Dr. Martin Luther King, Jr. Doreen Rappaport weaves the immortal words of Dr. King into a captivating narrative to tell the story of his life. With stunning art by acclaimed illustrator Bryan Collier, Martin's Big Words is an unforgettable portrait of a man whose dream changed America-and the world-forever.
My Brother Martin by Christine King Farris
Recommended for ages 6-11
From the Publisher: Renowned educator Christine King Farris, older sister of the late Dr. Martin Luther King Jr., joins with celebrated illustrator Chris Soentpiet to tell this inspirational story of how one boyhood experience inspired a movement.
Because they Marched by Russell Freedman
Recommended for ages 12 and up
From the Publisher: For the fiftieth anniversary of the march for voting rights from Selma to Montgomery, Alabama, Newbery Medalist Russell Freedman has written a riveting account of African-American struggles for the right to vote. This book contains more than 40 archival photos.
Be a King: Dr. Martin Luther King Jr.'s Dream and You by Carole Boston Weatherford
Recommended for ages 4-8
From the Publisher: Featuring a dual narrative of the key moments of Dr. King's life alongside a modern class as the students learn about him, Carole Weatherford's poetic text encapsulates the moments that readers today can reenact in their own lives. See a class of young students as they begin a school project inspired by Dr. Martin Luther King Jr. and learn to follow his example, as he dealt with adversity and never lost hope that a future of equality and justice would soon be a reality. As times change, Dr. King's example remains, encouraging a new generation of children to take charge and change the world . . . to be a King.
I Have a Dream by Dr. Martin Luther King Jr.
Recommended for ages 7 and up
From the Publisher: From Dr. Martin Luther King, Jr.'s daughter, Dr. Bernice A. King: "My father's dream continues to live on from generation to generation, and this beautiful and powerful illustrated edition of his world-changing "I Have a Dream" speech brings his inspiring message of freedom, equality, and peace to the youngest among us—those who will one day carry his dream forward for everyone."
Happy Birthday, Martin Luther King Jr. by Jean Marzollo
Recommended for ages 3-5
From the Publisher: This book is a beautifully-rendered study of Martin Luther King Jr.'s life, told in simple, straightforward language for even the youngest of readers to understand. Pinkney's scratchboard and oil pastel illustrations convey both the strength and gentleness of King's character. Both text and art carry his central message of peace and brotherhood among all people.

A Picture Book of Martin Luther King, Jr. by David Adler
Recommended for ages 5-8
From the Publisher: Pairing detailed illustrations and an accessible narrative of Dr. King's life, this book is ideal for a discussion about the history behind the holiday, or an early introduction to the struggle for civil rights in America. Includes a timeline of important dates.
Martin's Dream by Jane Kurtz
Recommended for ages 4-6
This Ready-to-Read Level One book allows early readers to access the story of Martin Luther King Jr. on their own.