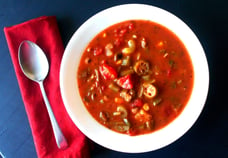 Taste Some Vegetarian Louisiana Gumbo with FLIK!
Celebrate and honor black heritage and have some fun making this gumbo with your family and friends, courtesy of the wonderful individuals at FLIK!
Celebrating Black History Month
Since 1976, every U.S. president has officially designated the month of February as Black History Month. During February at Peck, we observed Black History Month through educational social media posts, assemblies, and more. However, Black history education does not just exist in the classroom! Our friends at FLIK Dining and Chef Joe created a menu that highlights just some of the culinary contributions of Black Americans to our wider communities. We want to share FLIK's Vegetarian Gumbo recipe, so you get a taste of Black history at home!
A Brief History of Gumbo
Did you know that gumbo is not original to Louisiana? Food historians agree that the famous South Louisiana dish originates from West Africa. The word "gumbo" comes from the West African word "ki ngombo," meaning "okra"! West Africans used okra as a thickening agent in their version of the dish, and their gumbo is described as stew-like, containing fish and shellfish.

Gumbo from southern Louisiana is the intersection between West African, Native American, and European cultures. While West Africans used okra in their version of gumbo, Native Americans contributed file powder, a flavoring and thickening agent made from dried sassafras leaves. While it used to be an alternative to okra, it is now more commonly used as a seasoning. Finally, the European contribution to gumbo is one that many are already familiar with—roux. Roux is prepared by browning flour in a hot skillet in fat (butter) to the desired color (light tan to dark brown). Making a dark roux is the most popular way to thicken a gumbo.
So, let's make our own!
FLIK Vegetarian Louisiana Gumbo (approx. 6 servings)
Ingredients:
¼ cup Long Grain White Rice (Dry)
1 cup Water (for rice)
3 ¾ Tbsp of Butter
½ cup All-Purpose Flour
½ cup Onions, Diced
¾ cup Celery, Diced
½ cup Red Bell Peppers, Dice
⅔ cup Green Bell Peppers, Diced
¾ cup Carrots, Diced
1 cup Eggplant, Diced
¾ cup g Zucchini, Cubed
¾ cup Yellow Squash, Small Diced
3 ⅔ cups Water
Half a 14.5 oz. can of Diced Tomatoes Including Liquid (approx. 7 ¼ oz.)
¾ cup Fresh Okra, Stems Removed
1⅔ tsp Gumbo File
½ tsp Kosher Salt (to taste)
¼ tsp Ground Black Pepper (to taste)
2 Tbsp Canola Oil (to be used while cooking)
⅞ fl oz. Minors Low Sodium Vegetable Base
1 ⅛ Tablespoons FLIK Cajun Space Rub
Instructions:
Step 1: Cook rice and refrigerate until ready for use.
Step 2: Melt butter, add flour, and slowly cook until it is the color of peanut butter. Be sure to keep stirring, as you do not want the roux to burn!
Step 3: Heat olive oil in a heavy-bottomed pot or kettle. Add vegetables, except for the okra and the cajun spice, and sauté until tender. Add the roux and mix well, and slowly add the water, vegetable base, and can of tomatoes.
Step 4: Add okra and cook for 15 minutes, gently stirring. Add gumbo file, rice, salt, and pepper. Bring back to a simmer and serve. For a thicker gumbo, cook longer at a low temperature.
Step 5: Serve and enjoy!