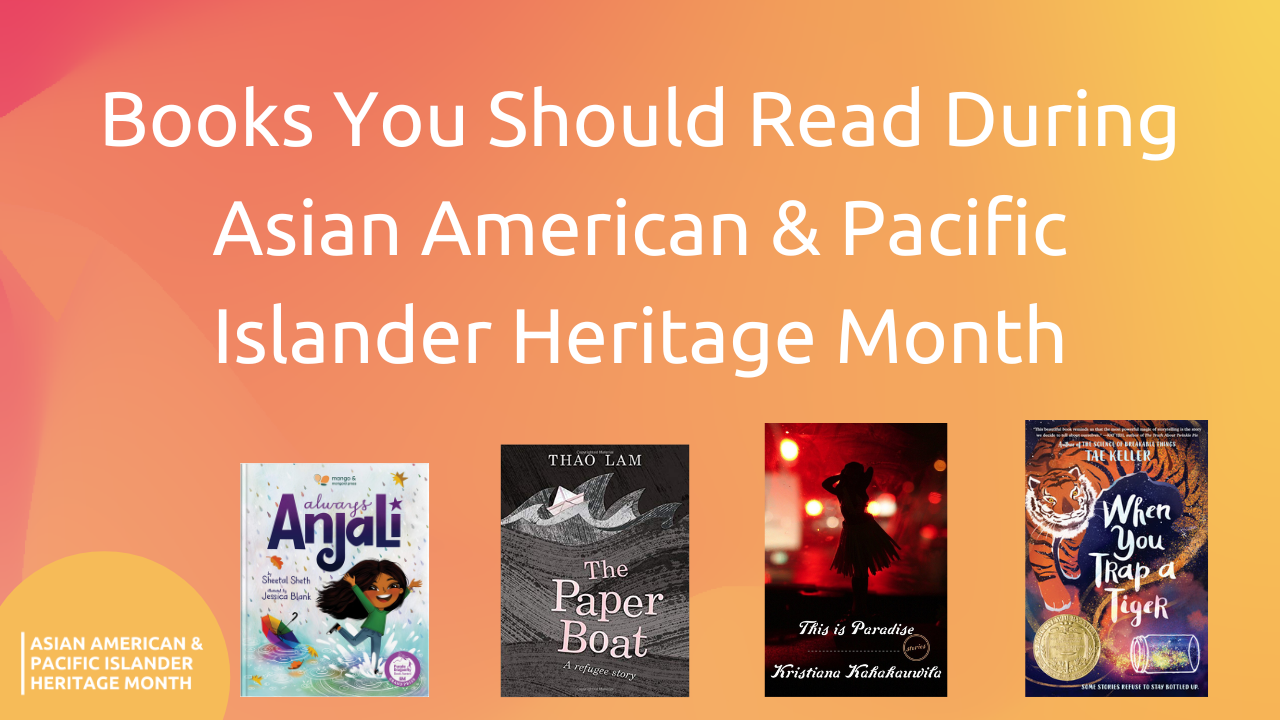 Asian American and Pacific Islander Heritage Month (AAPI) began on May 1! AAPI Heritage Month is a celebration of Asian Americans' and Pacific Islanders' contributions to our larger community through art, science, music, mathematics, and simply being a good neighbor!
AAPI Heritage Month was established in May to honor the arrival of the first Japanese immigrants in the United States on May 7, 1843, and the completion of the transcontinental railroad on May 10, 1869. Chinese immigrants made up the majority of the workers who laid the tracks.
Take a moment to read these incredible books with your child during Asian American and Pacific Islander Heritage Month.
Grades K-2:
Always Anjali by Sheetal Sheth
Anjali and her friends are excited to get matching personalized license plates for their bikes. But Anjali can't find her name. To make matters worse, she gets bullied for her "different" name, and is so upset she demands to change it. When her parents refuse and she is forced to take matters into her own hands, she winds up learning to celebrate who she is and carry her name with pride and power. A timeless story about appreciating what makes us special and honoring our differences.
Danbi Leads the School Parade by Anna Kim
Danbi is thrilled to start her new school in America. But a bit nervous, too, for when she walks into the classroom, everything goes quiet. Everyone stares. Danbi wants to join in the dances and the games, but she doesn't know the rules and just can't get anything right. Luckily, she isn't one to give up. With a spark of imagination, she makes up a new game and leads her classmates on a parade to remember!
Paper Son: The Inspiring Story of Tyrus Wong by Julie Leung
Before he became an artist named Tyrus Wong, he was a boy named Wong Geng Yeo. He traveled across a vast ocean from China to America with only a suitcase and a few papers. Not papers for drawing - which he loved to do - but immigration papers to start a new life. Once in America, Tyrus seized every opportunity to make art, eventually enrolling at an art institute in Los Angeles. Working as a janitor at night, his mop twirled like a paintbrush in his hands. Eventually, he was given the opportunity of a lifetime - and using sparse brushstrokes and soft watercolors, Tyrus created the iconic backgrounds of Bambi.
Grades 3-5:
The Paper Boat, A Refugee Story by Thao Lam
At her home in Vietnam, a girl rescues ants from the sugar water set out to trap them. Later, when the girl's family flees war-torn Vietnam, ants lead them through the moonlit jungle to the boat that will take them to safety. Before boarding, the girl folds a paper boat from a bun wrapper and drops it into the water, and the ants climb on. Their perilous journey, besieged by punishing weather, predatory birds, and dehydration, before reaching a new beginning, mirrors the family's own. Impressionistic collages and a moving, Own Voices narrative make this a one-of-a-kind tale of courage, resilience, and hope.
Fred Korematsu Speaks Up by Laura Atkins
Fred Korematsu liked listening to music on the radio, playing tennis, and hanging around with his friends—just like lots of other Americans. But everything changed when the United States went to war with Japan in 1941 and the government forced all people of Japanese ancestry to leave their homes on the West Coast and move to distant prison camps. This included Fred, whose parents had immigrated to the United States from Japan many years before. But Fred refused to go. He knew that what the government was doing was unfair. And when he got put in jail for resisting, he knew he couldn't give up.
The Great Wall of Lucy Wu by Wendy Wan-Long Sheng
Lucy Wu, aspiring basketball star and interior designer, is on the verge of having the best year of her life. She's ready to rule the school as a sixth-grader, go out for captain of the school basketball team, and take over the bedroom she has always shared with her sister. In an instant, though, her plans are shattered when she finds out that Yi Po, her beloved grandmother's sister, is coming to visit for several months -- and is staying in Lucy's room. Lucy's vision of a perfect year begins to crumble, and in its place come an unwelcome roommate, foiled birthday plans, a bully who tries to scare Lucy off the basketball team, and Chinese school with the annoying know-it-all Talent Chang. Lucy's year is ruined -- or is it? A wonderfully funny, warm, and heartfelt tale about the ways life often reveals silver linings in the most unexpected of clouds.
Grades 6-8:
Finding Junie Jim by Ellen Oh
Junie Kim just wants to fit in. So she keeps her head down and tries not to draw attention to herself. But when racist graffiti appears at her middle school, Junie must decide between staying silent or speaking out. Then Junie's history teacher assigns a project and Junie decides to interview her grandparents, learning about their unbelievable experiences as kids during the Korean War. Junie comes to admire her grandma's fierce determination to overcome impossible odds, and her grandpa's unwavering compassion during wartime. And as racism becomes more pervasive at school, Junie taps into the strength of her ancestors and finds the courage to do what is right.
Unsettled by Reem Faruqui
When her family moves from Pakistan to Peachtree City, all Nurah wants is to blend in, yet she stands out for all the wrong reasons. Nurah's accent, floral-print kurtas, and tea-colored skin make her feel excluded, until she meets Stahr at swimming tryouts. And in the water Nurah doesn't want to blend in. She wants to win medals like her star athlete brother, Owais—who is going through struggles of his own in the U.S. Yet when sibling rivalry gets in the way, she makes a split-second decision of betrayal that changes their fates.
When You Trap a Tiger by Tae Keller
When Lily and her family move in with her sick grandmother, a magical tiger straight out of her halmoni's Korean folktales arrives, prompting Lily to unravel a secret family history. Long, long ago, Halmoni stole something from the tigers. Now they want it back. And when one of the tigers approaches Lily with a deal--return what her grandmother stole in exchange for Halmoni's health--Lily is tempted to agree. But deals with tigers are never what they seem! With the help of her sister and her new friend Ricky, Lily must find her voice...and the courage to face a tiger.
For Parents:
Crying in H Mart by Michelle Zauner
In this exquisite story of family, food, grief, and endurance, Michelle Zauner proves herself far more than a dazzling singer, songwriter, and guitarist. With humor and heart, she tells of growing up one of the few Asian American kids at her school in Eugene, Oregon; of struggling with her mother's particular, high expectations of her; of painful adolescence; of treasured months spent in her grandmother's tiny apartment in Seoul, where she and her mother would bond, late at night, over heaping plates of food.
The Joy Luck Club by Amy Tan
Four mothers, four daughters, four families whose histories shift with the four winds depending on who's "saying" the stories. In 1949 four Chinese women, recent immigrants to San Francisco, begin meeting to eat dim sum, play mahjong, and talk. United in shared unspeakable loss and hope, they call themselves the Joy Luck Club. Rather than sink into tragedy, they choose to gather to raise their spirits and money. "To despair was to wish back for something already lost. Or to prolong what was already unbearable." Forty years later the stories and history continue.
This is Paradise by Kristiana Kahakauwila
In a stunning collection that announces the arrival of an incredible talent, Kristiana Kahakauwila travels the islands of Hawai'i, making the fabled place her own. Exploring the deep tensions between local and tourist, tradition and expectation, façade and authentic self, This Is Paradise provides an unforgettable portrait of life as it's truly being lived on Maui, Oahu, Kaua'i, and the Big Island.