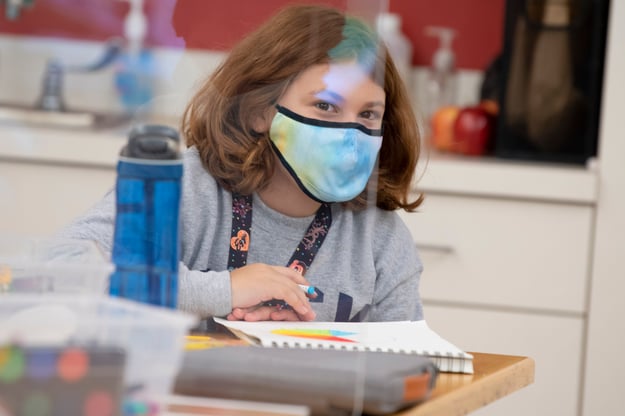 One unintended side effect of our robust arts program is a lot of piled up artwork on the countertops of my students' homes! While a good problem to have, I recognize how frustrating it can be for parents to want to keep mementos but not know how or where to display their children's work.
Finding ways to organize and showcase your child's artwork may seem like a small gesture, but, to a child, it's also an expression of appreciation, value, and love—and helps them to build confidence in their own creative abilities.
In my decades as an art teacher, I've discovered a number of ways to preserve children's art, from DIY projects to digital archiving to using professional services. Here are my top eight ideas:
Have your child's work professionally framed (or try to find ready-made frames that fit) and hang throughout the house. Sometimes it's fun to choose a hallway or room to display a collection of art.
Paint empty frames and arrange them on a wall. Insert student artwork and (bonus!) you can rotate as you wish!
Similarly, Etsy has many shops selling these

fun vinyl frames

. Adhere to any wall and insert art.
Prefer a DIY solution? Make your own display system with tension rods (or a wall-mounted picture rod or cord) and curtain clips. This also makes the work easy to hang and change.
Take pictures of student work and have it printed as wall art, a photo book, or a photo gift on websites such as at Shutterfly, Walmart photo, or Snapfish. You can also download an app to create photo books or gallery prints right from your mobile phone, such as Mixtiles, ChatBooks, or Motif (iOS only).

Keepy

is an app that stores photos and videos as well as artwork. You can even create a recording of yourself or the child talking about each piece of art and share with family and friends.

Artkive

helps you organize photos both digitally and physically. The Artkive App allows you to tag, store, and organize images of your child's work with unlimited cloud storage. For the Artkive Box, you fill the box with your child's work and it is photographed and returned to you as a beautiful keepsake book.

Create a website for your child's art using Google Sites. This can be published and shared with family and friends. Older children can help create the site!