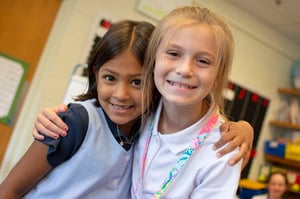 Several years ago, a dear friend from college asked me to tour independent schools with her and her partner as they tried to decide where to apply and ultimately send their four-year-old son to kindergarten in New York City. She did the work to line up tours, sent me brochures in advance, and even bought me an H&H bagel the morning of the first tour to sweeten the deal. I was delighted to dive into three days of back-to-back tours, not simply because it meant quality time with people I adore, but also because as an independent school veteran this was professional development. I was able to scrutinize how schools pitched their programs, articulated their missions, and explained the curriculum. I saw a lot, but it really boiled down to one major takeaway.
Here, let me ask you a question. Which of these two openers was the starting gambit for a successful tour?
"Tell us about Elias and what his interests are so that we can make sure we tailor the tour to him."
OR
"This is who we are and what we believe. Does that sound like what you want for Elias?"
If you said the latter, you are officially a savvy independent school consumer. Schools who put a stake in the ground, even if it wasn't exactly the stake my friends were hoping to find, were far more compelling than schools who tried to be all things to people. It comes down to a simple idea:say what you do and do what you say.
Schools come in a lot of shapes and sizes and what is most compelling is when the shape and size of the school are specifically designed to serve the students in the building. K-8 schools, such as Peck, are in the position to say:
We are focused on childhood. Our expertise lies in the span from early childhood to early adolescence. Our Lower School celebrates the critical milestones of early childhood as we design lessons to pique curiosity and build skills. Upper School is about savoring those last few moments of childhood without the peer pressures that naturally arise when sharing a campus with high schoolers. Our eighth graders can be seen playing on the playground at recess and solving a complex geometric proof. Academic rigor lives in time and space with joyful exuberance and all without the desire to look over one's shoulder to see what the teenagers are doing.
We provide authentic leadership opportunities. It can be compelling to think leadership is an innate quality, you've either got it or you don't, but that perspective is short-sighted. From fourth graders taking a leading role in family-style lunch to eighth graders serving as the editors of the yearbook, the K-8 model allows students to practice leadership skills. You'll see skills develop as students partner, through a program we call Reach Across, with a younger grade to engage in age-appropriate activities and build friendships. You'll witness students find the power of their voice as they deliver a speech to the entire Upper School in their final year at Peck. Leadership isn't a trait, it is a toolkit, a well-stocked bundle of tools that are handled best with practice.
We believe in the power of student choice. We design our lives through the power of choices, or at least so says Richard Bach. From our one-hour activities block each week to choosing a topic for National History Day projects, Upper School students at Peck are empowered to bring their perspectives and passions into the work of school. Leveraging our K-8 structure, our eighth graders are the "big kids," and as such, we provide them an opportunity to "design their lives" as they chose the big idea and final project in our student-led Capstone course. It is an exciting time, as our 13- and 14-year-olds get to be the thought leaders of the school just as they are asking themselves the most critical question: "Who am I and how do I want to engage with the world?" In Capstone, students get to try out big ideas, new passions, or creative models in space safe for exploration and discovery.
We put students on the path to right secondary school for them. When I was touring schools with my friend, I reminded her that if we were looking at K-12s then we were essentially looking for her son's high school on these visits. The comment stopped her in her tracks. "But how can I do that when he is only four? I have no idea who he'll be as a 14-year-old." Her inclination to question how far into the future she can project her son's academic needs made sense. The structural beauty of a K-8 school is that your child gets to learn, grow, and discover who they are before they choose a high school.
Middle school is my jam. I love the sense of discovery and growing self-awareness that develop during these critical years. Constantly frustrated by the images of middle school as something to be endured rather than celebrated, I know the K-8 structure gets middle school right, because I see it every day as students walk our hallways with their shoulders back and minds open.