Recently, I had a conversation with a parent about diversity in children's literature, and they commented, "I would love some suggestions. Sometimes I look at a book and wonder if is meant for my child."
As the librarian of a K-8 school, I would argue that all books are meant for all children. Nearly 30 years ago, Dr. Rudine Sims Bishop, professor emerita at The Ohio State University, wrote her seminal essay, Mirrors, Windows, and Sliding Glass Doors, introducing educators to the role literature plays in developing culturally competent children. At the core of her work is the belief that readers need more books with characters of all ethnicities and backgrounds, having a diverse range of experiences. When children read a book with characters that "mirror" themselves they feel a sense of belonging. They recognize that they are a valued member of the larger community. A book that is a "window" shows readers characters with differences in culture, skin color, religion, and lifestyle from their own. A "sliding glass door" book allows the reader to use their imagination to walk through the world created or recreated by the author. The window and sliding glass door books help the reader develop a sense of empathy and appreciation for the experiences of others. The challenge lies in finding books with diverse characters.
The infographic below illuminates the inequities in the representation of traditionally marginalized people in the world of children's literature.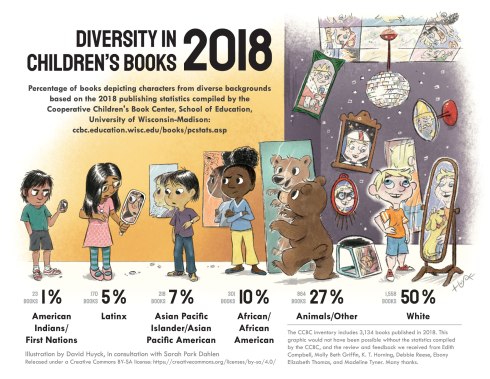 Organizations like the Children's Book Council and We Need Diverse Books are working with the publishing industry to produce and promote books that reflect the lives of all children. As parents and teachers, we support this important work when we encourage children to read books with a wide variety of characters. Working together, we can provide our children and students with mirrors, windows, and sliding glass doors that prepare them for the interactions they will have with others in our wonderfully diverse world.
Wondering where to start?
Below is a shortlist of some of my favorite books highlighting diverse characters.
Books for Kindergarten - Grade 2
Together We Can!: A heart-warming ode to friendship, compassion, and kindness by Caryl Hart
The message is clear — friends come in all different sizes, shapes, and colors. Some may look and dress differently than you, speak another language at home, may use a wheelchair to get around, or simply be shy. It just doesn't matter — making a new friend is AWESOME!
All Are Welcome by Alexandra Penfold
Follow a group of children through a day in their school, where everyone is welcomed with open arms. A school where kids in patkas, hijabs, and yarmulkes play side-by-side with friends in baseball caps. All Are Welcome lets young children know that no matter what, they have a place, they have a space, they are welcome in their school.
Round as a Mooncake by Rosanne Thong
A little girl's urban neighborhood becomes a discovery ground for all things round, square, and rectangular in this lyrical picture book. Most items are Asian in origin, others universal: round rice bowls and a found pebble, square dim sum and the boxes that the pizzas come in, rectangular Chinese lace and a very special pencil case. Bright, whimsical art accompanies the narrative rhyme, and a short glossary adds cultural significance to the objects featured in the book.
Thunder Boy Jr. by Sherman Alexie
Thunder Boy Jr. wants a normal name...one that's all his own. Dad is known as big Thunder, but little Thunder doesn't want to share a name. He wants a name that celebrates something cool he's done like Touch the Clouds, Not Afraid of Ten Thousand Teeth, or Full of Wonder. But just when Little Thunder thinks all hope is lost, dad picks the best name...Lightning! Their love will be loud and bright, and together they will light up the sky.
We Are Family by Patricia Hegarty
Through illness and health, in celebration and disappointment, families stick together. Some families are made up of many people, and some are much smaller. Sometimes family members look like each other, and sometimes they don't! But even though every family is different, the love is all the same.
Books for Grades 3-5
The Year of the Dog by Grace Lin
When Pacy's mom tells her that this is a good year for friends, family, and "finding herself," Pacy begins searching right away. As the year goes on, she struggles to find her talent, deals with disappointment, makes a new best friend, and discovers just why the Year of the Dog is a lucky one for her after all.
Blackbird Fly by Erin Entrada Kelly
Apple has always felt a little different from her classmates. She and her mother moved to Louisiana from the Philippines when she was little, and her mother still cooks Filipino foods and chastises Apple for becoming "too American." When Apple's friends turn on her and everything about her life starts to seem weird and embarrassing, Apple turns to music. If she can just save enough to buy a guitar and learn to play, maybe she can change herself. It might be the music that saves her . . . or it might be her two new friends, who show her how special she really is.
Rain Reign by Ann M. Martin
Struggling with Asperger's, Rose shares a bond with her beloved dog--
but when the dog goes missing during a storm, Rose is forced to confront the limits of her comfort levels, even if it means leaving her routines in order to search for her pet.
The Way Home Looks Now by Wendy Wan-Long Shang
Twelve-year-old Chinese American Peter Lee and his family always shared a passion for baseball, bonding over backlot games and the Pittsburgh Pirates. But when a devastating tragedy strikes, the family flies apart and Peter's mom becomes paralyzed by grief, drifting further and further from her family. Hoping to lift his mother's spirits, Peter decides to try out for Little League. But his plans become suddenly complicated when his strict and serious father volunteers to coach the team. His dad's unconventional teaching methods rub some of Peter's teammates the wrong way, and Peter starts to wonder if playing baseball again was the right idea--and if it can even help his family feel less broken. Can the game they all love eventually bring them back together, safe at home?
Front Desk by Kelly Yang
Mia Tang has a lot of secrets.

Number 1: She lives in a motel, not a big house. Every day, while her immigrant parents clean the rooms, ten-year-old Mia manages the front desk of the Calivista Motel and tends to its guests.

Number 2: Her parents hide immigrants. And if the mean motel owner, Mr. Yao, finds out they've been letting them stay in the empty rooms for free, the Tangs will be doomed.

Number 3: She wants to be a writer. But how can she when her mom thinks she should stick to math because English is not her first language?

It will take all of Mia's courage, kindness, and hard work to get through this year. Will she be able to hold on to her job, help the immigrants and guests, escape Mr. Yao, and go for her dreams?
Books for Grades 5-8
Inside Out and Back Again by Thanhha Lai
Ten-year-old Há has only known Saigon, but now the Vietnam War has reached her home, and she and her family are forced to flee. In America, Há discovers the foreign world of Alabama: the coldness of its strangers, the dullness of its food, the strange shape of its landscape, and the strength of her very own family.
The Crossover by Kwame Alexander
"With a bolt of lightning on my kicks . . . The court is SIZZLING. My sweat is DRIZZLING. Stop all that quivering. 'Cuz tonight I'm delivering," raps twelve-year-old Josh Bell. Thanks to their dad, he and his twin brother, Jordan, are kings on the court. But Josh has more than basketball in his blood—he's got mad beats, too, which help him find his rhythm when it's all on the line. As their winning season unfolds, things begin to change. When Jordan meets a girl, the twins' bond unravels.Told in dynamic verse, this fast and furious middle-grade novel that started it all absolutely bounces with rhythm and bursts with heart.
The Track Series (Ghost, Sunny, Patina) by Jason Reynolds
Ghost. Patina. Sunny. Lu. A fast but fiery group of kids from wildly different backgrounds, chosen to compete on an elite track team. They all have a lot to lose, but they also have a lot to prove, not only to each other, but to themselves. Discover each of their stories in this complete collection of Jason Reynolds's explosive New York Times bestselling Track series.
One Crazy Summer by Rita Williams-Garcia
Eleven-year-old Delphine is like a mother to her two younger sisters, Vonetta and Fern. She's had to be, ever since their mother, Cecile, left them seven years ago for a radical new life in California. But when the sisters arrive from Brooklyn to spend the summer with their mother, Cecile is nothing like they imagined. While the girls hope to go to Disneyland and meet Tinker Bell, their mother sends them to a day camp run by the Black Panthers. Unexpectedly, Delphine, Vonetta, and Fern learn much about their family, their country, and themselves during one truly crazy summer.
Amal Unbound by Aisha Saeed
Life is quiet and ordinary in Amal's Pakistani village, but she had no complaints, and besides, she's busy pursuing her dream of becoming a teacher one day. Her dreams are temporarily dashed when--as the eldest daughter--she must stay home from school to take care of her siblings. Amal is upset, but she doesn't lose hope and finds ways to continue learning. Then the unimaginable happens--after an accidental run-in with the son of her village's corrupt landlord, Amal must work as his family's servant to pay off her own family's debt.
Books for Grade 7+
Harbor Me by Jacqueline Woodson
It all starts when six kids have to meet for a weekly chat--by themselves, with no adults to listen in. There, in the room they soon dub the ARTT Room (short for "A Room to Talk"), they discover it's safe to talk about what's bothering them--everything from Esteban's father's deportation and Haley's father's incarceration to Amari's fears of racial profiling and Ashton's adjustment to his changing family fortunes. When the six are together, they can express the feelings and fears they have to hide from the rest of the world. And together, they can grow braver and more ready for the rest of their lives.
Long Way Down by Jason Reynolds
This novel that takes place in sixty potent seconds—the time it takes a kid to decide whether or not he's going to murder the guy who killed his brother.
The Hate U Give by Angie Thomas
Sixteen-year-old Starr Carter moves between two worlds: the poor neighborhood where she lives and the fancy suburban prep school she attends. The uneasy balance between these worlds is shattered when Starr witnesses the fatal shooting of her childhood best friend Khalil at the hands of a police officer. Khalil was unarmed. Soon afterward, his death is a national headline. Some are calling him a thug, maybe even a drug dealer and a gangbanger. Protesters are taking to the streets in Khalil's name. Some cops and the local drug lord try to intimidate Starr and her family. What everyone wants to know is: what really went down that night? And the only person alive who can answer that is Starr.
But what Starr does—or does not—say could upend her community. It could also endanger her life.
The Absolutely True Diary of a Part-time Indian by Sherman Alexie
Bestselling author Sherman Alexie tells the story of Junior, a budding cartoonist growing up on the Spokane Indian Reservation. Determined to take his future into his own hands, Junior leaves his troubled school on the rez to attend an all-white farm town high school where the only other Indian is the school mascot.
The Poet X by Elizabeth Acevedo
Xiomara Batista feels unheard and unable to hide in her Harlem neighborhood. Ever since her body grew into curves, she has learned to let her fists and her fierceness do the talking. But Xiomara has plenty she wants to say, and she pours all her frustration and passion onto the pages of a leather notebook, reciting the words to herself like prayers—especially after she catches feelings for a boy in her bio class named Aman, who her family can never know about. With Mami's determination to force her daughter to obey the laws of the church, Xiomara understands that her thoughts are best kept to herself. So when she is invited to join her school's slam poetry club, she doesn't know how she could ever attend without her mami finding out. But she still can't stop thinking about performing her poems. Because in the face of a world that may not want to hear her, Xiomara refuses to be silent.
Pride by Ibi Zoboi
Zuri Benitez has pride. Brooklyn pride, family pride, and pride in her Afro-Latino roots. But pride might not be enough to save her rapidly gentrifying neighborhood from becoming unrecognizable. When the wealthy Darcy family moves in across the street, Zuri wants nothing to do with their two teenage sons, even as her older sister, Janae, starts to fall for the charming Ainsley. She especially can't stand the judgmental and arrogant Darius. Yet as Zuri and Darius are forced to find common ground, their initial dislike shifts into an unexpected understanding. But with four wild sisters pulling her in different directions, cute boy Warren vying for her attention, and college applications hovering on the horizon, Zuri fights to find her place in Bushwick's changing landscape, or lose it all.
Infographic Citation
Huyck, David and Sarah Park Dahlen. (2019 June 19). Diversity in Children's Books 2018. sarahpark.com blog. Created in consultation with Edith Campbell, Molly Beth Griffin, K. T. Horning, Debbie Reese, Ebony Elizabeth Thomas, and Madeline Tyner, with statistics compiled by the Cooperative Children's Book Center, School of Education, University of Wisconsin-Madison: http://ccbc.education.wisc.edu/books/pcstats.asp. Retrieved from https://readingspark.wordpress.com/2019/06/19/picture-this-diversity-in-childrens-books-2018-infographic/.