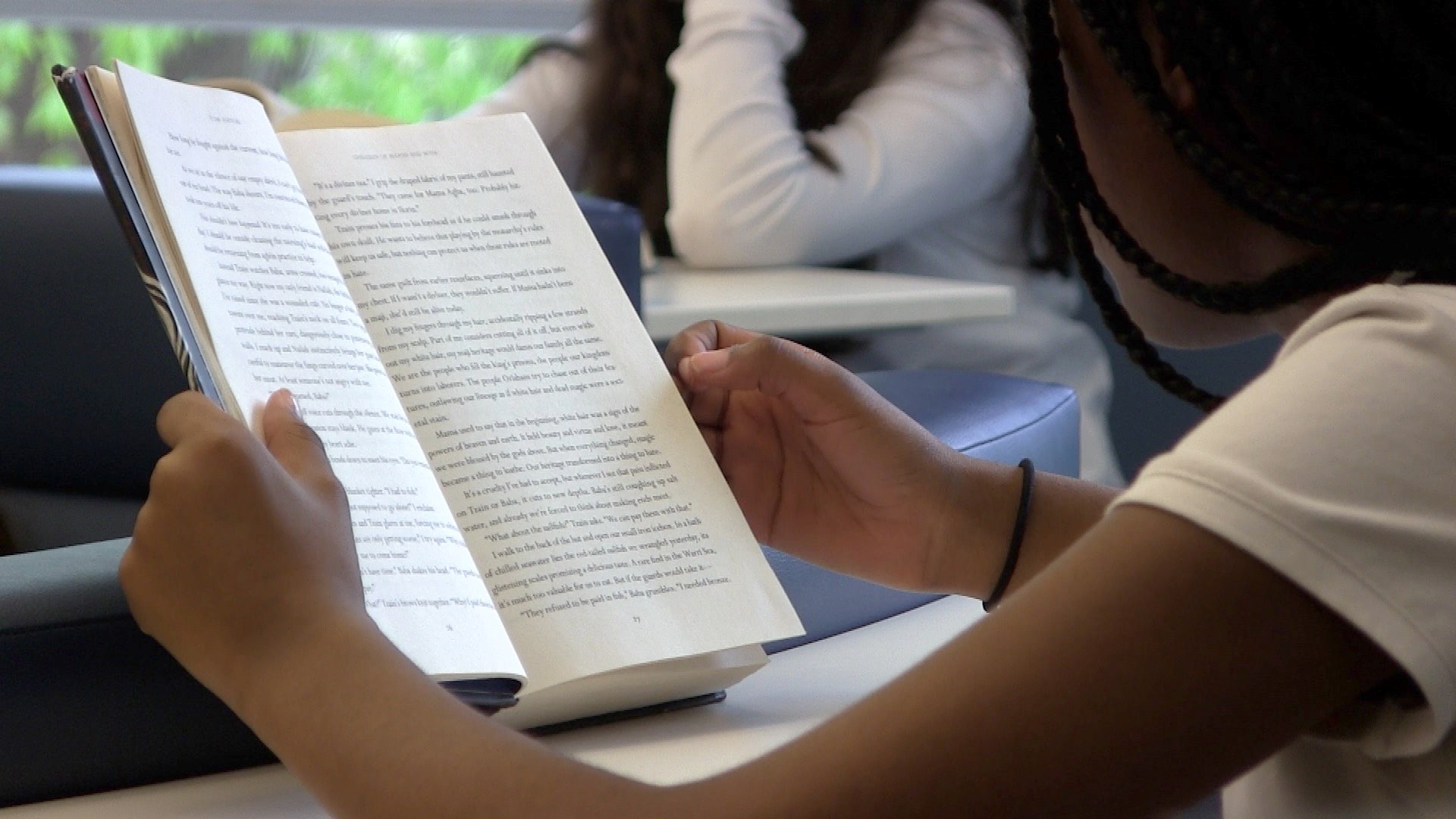 Books, along with other forms of artistic expression, can provide an immense sense of comfort in turbulent times. Librarian Mary Kate MacVicar has compiled a list of books for readers (and listeners) of all ages, including adults. You'll be inspired by these stories of hope, determination, and resilience.
Grades K-2
Rylant, Cynthia. The Stars Will Still Shine
Written in response to troubled times by one of the most celebrated children's book authors of all time, this comforting book is one that children and parents will want to return to when outside conflicts seem overwhelming. Like a prayer, this is soothing at bedtime and is a meaningful gift for anyone facing a crisis or starting anew.
Leannah, Michael. Most People
Michael Leannah wrote Most People as an antidote to the scary words and images kids hear and see every day. Jennifer Morris's emotive, diverting characters provide the perfect complement to Leannah's words, leading us through the crowded streets of an urban day in the company of two pairs of siblings. Most People is a courageous, constructive response to the dystopian world of the news media.
McDonnell, Patrick. A Perfectly Messed up Story
Little Louie's story keeps getting messed up, and he's not happy about it! What's the point of telling his tale if he can't tell it perfectly? But when he stops and takes a deep breath, he realizes that everything is actually just fine, and his story is a good one--imperfections and all.
Santat, Dan. After the Fall: How Humpty Dumpty Got Back Up Again
Everyone knows that when Humpty Dumpty sat on a wall, Humpty Dumpty had a great fall. But what happened after? Caldecott Medalist Dan Santat's poignant tale follows Humpty Dumpty, an avid bird watcher whose favorite place to be is high up on the city wall--that is, until after his famous fall. Now terrified of heights, Humpty can longer do many of the things he loves most. Will he summon the courage to face his fear?
Yamada, Kobi. What Do You Do With a Problem?
This is the story of a persistent problem and the child who isn't so sure what to make of it. The longer he avoids the problem, the bigger it seems to get. But when the child finally musters up the courage to face it, the problem turns out to be something quite different indeed.
Grades 3-5
Applegate, Katherine. Wishtree
Red is an oak tree who is many rings old. Red is the neighborhood "wishtree"--people write their wishes on pieces of cloth and tie them to Red's branches. Along with a crow named Bongo and other animals who seek refuge in Red's hollows, this wishtree watches over the neighborhood. You might say Red has seen it all. Until a new family moves in. Not everyone is welcoming, and Red's experience as a wishtree is more important than ever.
Applegate, Katerine. The One and Only Ivan
Having spent twenty-seven years behind the glass walls of his enclosure in a shopping mall, Ivan has grown accustomed to humans watching him. He hardly ever thinks about his life in the jungle. Instead, Ivan occupies himself with television, his friends Stella and Bob, and painting. But when he meets Ruby, a baby elephant taken from the wild, he is forced to see their home, and his art, through new eyes.
Bowling, Dusti. Insignificant Events in the Life of a Cactus (Grade 4+)
Aven Green loves to tell people that she lost her arms in an alligator wrestling match, or a wildfire in Tanzania, but the truth is she was born without them. And when her parents take a job running Stagecoach Pass, a rundown western theme park in Arizona, Aven moves with them across the country knowing that she'll have to answer the question over and over again. Her new life takes an unexpected turn when she bonds with Connor, a classmate who also feels isolated because of his own disability, and they discover a room at Stagecoach Pass that holds bigger secrets than Aven ever could have imagined.
Grabenstein, J.J. and Chris. Shine!
"Shine on!" might be the catchphrase of twelve-year-old Piper's hero--astronaut, astronomer, and television host Nellie Dumont Frisse--but Piper knows the truth: some people are born to shine, and she's just not one of them. That fact has never been clearer than now, since her dad's new job has landed them both at Chumley Prep, a posh private school where Piper definitely doesn't fit in. Shine! is a story about finding your place in the universe--a story about figuring out who you are and who you want to be.
Savage, Melissa. Lemons
Lemonade Liberty Witt's mama always told her: When life gives you lemons, make lemonade. But Lem can't possibly make lemonade out of her new life in Willow Creek, California--the Bigfoot Capital of the World--where she's forced to live with a grandfather she's never met after her mother passes away. Then she meets eleven-year-old Tobin Sky, the CEO of Bigfoot Detectives Inc., who is the sole Bigfoot investigator for their small town. After he invites Lem to be his assistant for the summer, Lem realizes that maybe she can make lemonade out of her new life after all.
The Hero Next Door (short story collection)
Not all heroes wear capes. Some heroes teach martial arts. Others talk to ghosts. A few are inventors or soccer players. They're also sisters, neighbors, and friends. Because heroes come in many shapes and sizes. But they all have one thing in common: they make the world a better place. Published in partnership with We Need Diverse Books, this vibrant anthology features thirteen acclaimed authors whose powerful and diverse voices show how small acts of kindness can save the day.
Grades 5-8
Craft, Jerry. New Kid
Perfect for fans of Raina Telgemeier and Gene Luen Yang, New Kid is a timely, honest graphic novel about starting over at a new school where diversity is low and the struggle to fit in is real. Seventh grader Jordan Banks loves nothing more than drawing cartoons about his life. But instead of sending him to the art school of his dreams, his parents enroll him in a prestigious private school known for its academics, where Jordan is one of the few kids of color in his entire grade. Can Jordan learn to navigate his new school culture while keeping his neighborhood friends and staying true to himself?
Hunt, Lynda Mullaly. Fish in a Tree
Ally has been smart enough to fool a lot of smart people. Every time she lands in a new school, she is able to hide her inability to read by creating clever yet disruptive distractions. She is afraid to ask for help; after all, how can you cure dumb? However, her newest teacher Mr. Daniels sees the bright, creative kid underneath the trouble maker. With his help, Ally learns not to be so hard on herself and that dyslexia is nothing to be ashamed of. As her confidence grows, Ally feels free to be herself and the world starts opening up with possibilities.
O'Connor, Barbara. Wish
Eleven-year-old Charlie Reese has been making the same secret wish every day since fourth grade. But when she is sent to the Blue Ridge Mountains of North Carolina to live with family she barely knows, it seems unlikely that her wish will ever come true. That is, until she meets Wishbone, a skinny stray dog who captures her heart, and Howard, a neighbor boy who proves surprising in lots of ways. Suddenly Charlie is in serious danger of discovering that what she thought she wanted may not be what she needs at all.
Palacio, R.J. 365 Days of Wonder: Mr. Browne's Precepts
In Wonder, readers were introduced to memorable English teacher Mr. Browne and his love of precepts. This companion book features conversations between Mr. Browne and Auggie, Julian, Summer, Jack Will, and others, giving readers a special peek at their lives after Wonder ends. Mr. Browne's essays and correspondence are rounded out by a precept for each day of the year. His selections celebrate the goodness of human beings, the strength of people's hearts, and the power of people's wills.
Warge, Jasmine. Other Words For Home
A gorgeously written, hopeful middle grade novel in verse about a young girl who must leave Syria to move to the United States, perfect for fans of Jason Reynolds and Aisha Saeed. Jude never thought she'd be leaving her beloved older brother and father behind, all the way across the ocean in Syria. At first, everything in America seems too fast and too loud. The American movies that Jude has always loved haven't quite prepared her for starting school in the US--and her new label of "Middle Eastern," an identity she's never known before. But this life also brings unexpected surprises--there are new friends, a whole new family, and a school musical that Jude might just try out for. Maybe America, too, is a place where Jude can be seen as she really is.
Palacio, R.J. White Bird: A Wonder Story (Grades 7+)
In R. J. Palacio's best selling collection of stories Auggie & Me, which expands on characters in Wonder, readers were introduced to Julian's grandmother, Grandmere. Here, Palacio makes her graphic novel debut with Grandmere's heartrending story: how she, a young Jewish girl, was hidden by a family in a Nazi-occupied French village during World War II; how the boy she and her classmates once shunned became her savior and best friend. With poignant symbolism and gorgeous artwork that brings Sara's story out of the past and cements it firmly in this moment in history, White Bird is sure to captivate.
Wolk, Lauren. Beyond the Bright Sea
Crow has lived her entire life on a tiny piece of the starkly beautiful Elizabeth Islands off the coast of Massachusetts. Her only companions are Osh, the man who rescued her from a tiny skiff as an infant and raised her, and Miss Maggie, their neighbor across the sandbar. But it isn't until the night when a mysterious fire appears across the water that an unspoken question of her own history forms in her heart and an unstoppable chain of events is triggered. Using her bravery and perseverance, Crow must follow clues that not only lead to a personal treasure, but to uncovering her lost identity and, ultimately, understanding what it means to be a family.
Adults
Angelou, Maya. I Know Why the Caged Bird Sings
I Know Why the Caged Bird Sings captures the longing of lonely children, the brute insult of bigotry, and the wonder of words that can make the world right. Sent by their mother to live with their devout, self-sufficient grandmother in a small Southern town, Maya and her brother, Bailey, endure the ache of abandonment and the prejudice of the local "powhitetrash." At eight years old and back at her mother's side in St. Louis, Maya is attacked by a man many times her age--and has to live with the consequences for a lifetime. Years later, in San Francisco, Maya learns that love for herself, the kindness of others, her own strong spirit, and the ideas of great authors ("I met and fell in love with William Shakespeare") will allow her to be free instead of imprisoned.
Brosh, Allie. Hyperbole and a Half : Unfortunate Situations, Flawed Coping Mechanisms, Mayhem, and Other Things That Happened
Every time Allie Brosh posts something new on her hugely popular blog Hyperbole and a Half, the internet rejoices. This full-color, beautifully illustrated edition features more than fifty percent new content, with ten never-before-seen essays and one wholly revised and expanded piece, as well as classics from the website like, "The God of Cake," "Dogs Don't Understand Basic Concepts Like Moving," and her astonishing, "Adventures in Depression" and "Depression Part Two." Brosh's debut marks the launch of a major new American humorist who will surely make even the biggest scrooge or snob laugh.
Gilbert, Elizabeth. Eat, Pray, Love
This beautifully written, heartfelt memoir touched a nerve among both readers and reviewers. Elizabeth Gilbert tells how she made the difficult choice to leave behind all the trappings of modern American success (marriage, house in the country, career) and find, instead, what she truly wanted from life. Setting out for a year to study three different aspects of her nature amid three different cultures, Gilbert explored the art of pleasure in Italy and the art of devotion in India, and then a balance between the two on the Indonesian island of Bali.
Larson, Erik. The Splendid and the Vile: A Saga of Churchill, Family, and Defiance During the Blitz
On Winston Churchill's first day as Prime Minister, Adolf Hitler invaded Holland and Belgium. Poland and Czechoslovakia had already fallen, and the Dunkirk evacuation was just two weeks away. For the next twelve months, Hitler would wage a relentless bombing campaign, killing 45,000 Britons. It was up to Churchill to hold his country together and persuade President Franklin Roosevelt that Britain was a worthy ally--and willing to fight to the end. In The Splendid and the Vile, Erik Larson shows, in cinematic detail, how Churchill taught the British people "the art of being fearless."
Puleo, Stephen. Voyage of Mercy: The UUSS Jamestown Irish Famine, and the Remarkable Story of America's First Humanitarian Mission
The remarkable story of the mission that inspired a nation to donate massive relief to Ireland during the potato famine and began America's tradition of providing humanitarian aid around the world. More than 5,000 ships left Ireland during the great potato famine in the late 1840s, transporting the starving and the destitute away from their stricken homeland. The first vessel to sail in the other direction, to help the millions unable to escape, was the USS Jamestown, a converted warship, which left Boston in March 1847 loaded with precious food for Ireland. It showed the world that national generosity and brotherhood were not signs of weakness, but displays of quiet strength and moral certitude.
Sedaris, David. Me Talk Pretty One Day
A new collection from David Sedaris is cause for jubilation. His recent move to Paris has inspired hilarious pieces, including "Me Talk Pretty One Day," about his attempts to learn French. His family is another inspiration. "You Can't Kill the Rooster" is a portrait of his brother, who talks incessant hip-hop slang to his bewildered father. Compared by The New Yorker to Twain and Hawthorne, Sedaris has become one of our best-loved authors.
Staryed, Cheryl. Tiny Beautiful Things : Advice on Love and Life from Dear Sugar
This bestselling book from the author of Wild collects the best of The Rumpus's "Dear Sugar" advice columns plus never-before-published pieces. Rich with humor, insight, compassion--and absolute honesty--this book is a balm for everything life throws our way. "Sugar"--the once-anonymous online columnist at The Rumpus, now revealed as Cheryl Strayed, author of the bestselling memoir Wild--is the person thousands turn to for advice.