With the holidays fast approaching we know as parents your focus and attention has turned to holiday planning and that includes shopping for gifts.
If you have a budding artist at home, here are a few recommendations for items that would delight and and encourage any budding artist ages 5 to 10.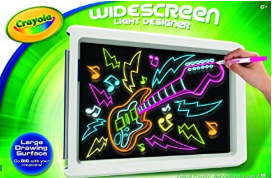 Crayola Widescreen Light Designer
From the manufacturer:
Crayola Light Designers will empower kids to easily design and create moving masterpieces using a variety of special effects. The large drawing surface can be used flat or dual position stand up. Create surprising colorful effects. Has a fold-in stand & marker storage in back.
From Mrs. D:
This is a mess-free art supply that will encourage endless drawing and designing. It travels well and easily fits in a tote bag or backpack. Your little artists will love lighting up their creations and using the built-in stand to display their work! It's even a fun way to practice spelling, penmanship and math.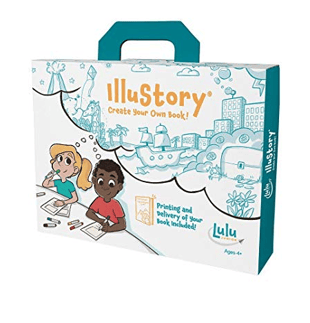 Lulu Jr, Illustory Bookmaking Kit
From the Manufacturer:
IlluStory is a complete kit for writing, illustrating and publishing a hardcover book. Bring your child's imagination to life through the fun and educational process of making their own book. This kit is an ideal gift for children who want to explore their imagination and creativity through publishing their very own book.
From Mrs. D:
What a wonderful keepsake this would be! Children will love the idea of publishing their own book. Just like Eric Carle, they will write their own story and create the illustrations. This is such a great way to encourage our budding authors and artists.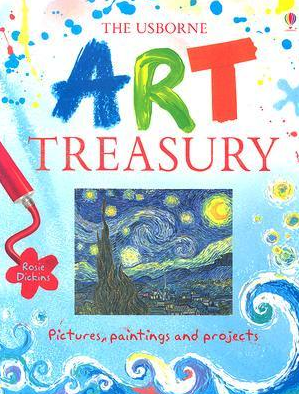 The Usborne Art Treasury by Rosie Dickens
From Goodreads:
This delightful treasury combines dazzling art from around the world with exciting projects to do that will inspire every young artist. It includes famous European paintings, delicate Japanese prints and traditional African masks, and each work of art is followed by a project influenced by the artist's methods or ideas.
From Mrs. D:
This is a wonderful children's book for anyone wanting to learn more about such great artists as Jackson Pollock, Georgia O'Keeffe, Vincent Van Gogh, and more. The illustrations are beautiful and the step-by-step instructions for each project are clear and well presented. What a great way to support and expand the learning that takes place in Peck's Lower School art room!
Happy Holidays!