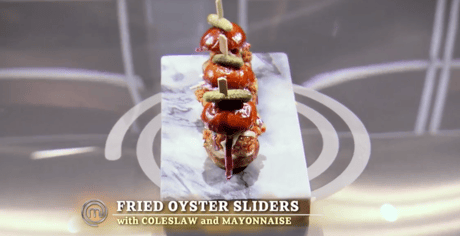 "You sound like me. You cook like me. You look like me. What's your surname, Ben Ramsey?" said Gordon Ramsey as he dubbed oyster sliders from Ben Brown '21 "absolutely phenomenal" and "restaurant quality" during this week's Season 7, Episode 5 of MasterChef Junior on Fox.
If you've been eagerly following MasterChef Junior, like so many of us at Peck, you saw Ben Brown hang on for another episode in a competition full of exceptionally talented young cooks.
At Peck, we pride ourselves on being a community of lifelong learners, and Ben typified that in his approach to Tuesday's episode. "The most exciting part of last night's episode," said Ben, "was getting to see a master class with Mr. Ramsey. He made some signature sliders, including a regular bacon cheeseburger, a sesame seed encrusted tuna slider, and a mushroom burger with gouda and arugula."
After Ramsey's master class, the MasterChef Junior contestants who were at risk of elimination had 45 minutes to make their own signature slider. Ben impressed the judges with an oyster slider that Ramsey felt was of a caliber suited to MasterChef, the networks flagship celebrity cooking show with adults.
Ben was happy to share his recipe again this week.
Fried Oyster Sliders Deep Fried in Potato Chips with Cole Slaw, and a Mayonnaise Sauce
Ingredients
Raw oysters (shucked, one per slider)
Flour
Egg (whisked into an egg wash)
Potato chips (crushed finely)
Mayonnaise
Paprika
Salt
Pepper
Sugar
Green cabbage (shredded)
Purple cabbage (shredded)
Oil for deep frying
Brioche bun
Directions
Heat oil to 375 degrees in a deep fryer or frying pan
Coat an oyster lightly in flour
Dip floured oyster in the egg wash
Coat in crushed potato chips
Fry for 2 to 3 minutes until golden brown
Mix equal parts green and purple cabbage with mayonnaise, a dash of salt, pepper, sugar and paprika to taste creating a coleslaw mixture
Spread coleslaw mixture on a slider-sized brioche bun
Top with oyster and serve