What happens when you ask a school full of educators for book suggestions for a holiday gift guide?
You get inundated with incredible recommendations! From classics to contemporary favorites, the faculty (and staff!) at The Peck School have compiled this list of books for everyone on your list, from our youngest readers to the adults on your list.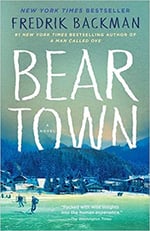 1. Bear Town by Fredrik Backman
Recommended by Head of School Andy Delinsky

For adults
From the Publisher: People say Beartown is finished. A tiny community nestled deep in the forest, it is slowly losing ground to the ever-encroaching trees. But down by the lake stands an old ice rink, built generations ago by the working men who founded this town. And in that ice rink is the reason people in Beartown believe tomorrow will be better than today. Their junior ice hockey team is about to compete in the national semi-finals, and they actually have a shot at winning. All the hopes and dreams of this place now rest on the shoulders of a handful of teenage boys. (Read More)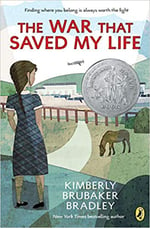 2. The War That Saved My Life by Kimberly Brubaker Bradley
Recommended by Upper School English Teacher Elizabeth Muller
For ages 9-12

From the Publisher: 10-year-old Ada has never left her one-room apartment. Her mother is too humiliated by Ada's twisted foot to let her outside. So when her little brother Jamie is shipped out of London to escape the war, Ada doesn't waste a minute—she sneaks out to join him.

So begins a new adventure for Ada, and for Susan Smith, the woman who is forced to take the two kids in. As Ada teaches herself to ride a pony, learns to read, and watches for German spies, she begins to trust Susan—and Susan begins to love Ada and Jamie. But in the end, will their bond be enough to hold them together through wartime? Or will Ada and her brother fall back into the cruel hands of their mother?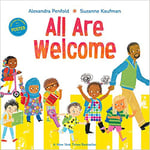 3. All Are Welcome by Alexandra Penfold
Recommended by Second Grade Teacher Jane Attah
For ages 4 to 8
From the Publisher: Follow a group of children through a day in their school, where everyone is welcomed with open arms. A school where kids in patkas, hijabs, and yarmulkes play side-by-side with friends in baseball caps. A school where students grow and learn from each other's traditions and the whole community gathers to celebrate the Lunar New Year.

All Are Welcome lets young children know that no matter what, they have a place, they have a space, they are welcome in their school.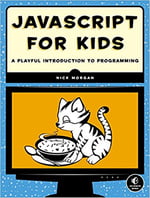 4. JavaScript for Kids: A Playful Introduction to Programming by Nick Morgan
Recommended by Director of Technology, Innovation, and Design Kevin Grieshaber
For ages 10+
From the Publisher: JavaScript is the programming language of the Internet, the secret sauce that makes the Web awesome, your favorite sites interactive, and online games fun!

JavaScript for Kids is a lighthearted introduction that teaches programming essentials through patient, step-by-step examples paired with funny illustrations. You'll begin with the basics, like working with strings, arrays, and loops, and then move on to more advanced topics, like building interactivity with jQuery and drawing graphics with Canvas.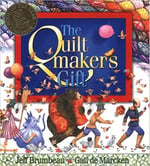 5. The Quiltmakers Gift by Jeff Brumbeau
Recommended by Second Grade Teacher Sasha Schreiner
For ages 4-8
From the Publisher: The Quiltmaker's Gift celebrates the quilting tradition, the value of generosity, and the spirit of community in a beautiful and touching fable for our times. This richly illustrated picture book celebrates the joy of giving and gently emphasizes the age-old truth that material wealth does not necessarily buy happiness. The Quiltmaker's Gift is a heartwarming children's fable, a celebration of quilters and quilting, and a challenging adult parable all wrapped into one.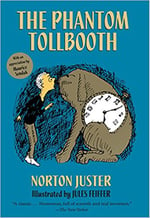 6. The Phantom Tollbooth by Norton Juster
Recommended by Upper School Math Teacher Julie Casola
For ages 8-11
From the Publisher: This ingenious fantasy centers around Milo, a bored ten-year-old who comes home to find a large toy tollbooth sitting in his room. Joining forces with a watchdog named Tock, Milo drives through the tollbooth's gates and begins a memorable journey. He meets such characters as the foolish, yet lovable Humbug, the Mathemagician, and the not-so-wicked "Which," Faintly Macabre, who gives Milo the "impossible" mission of returning two princesses to the Kingdom of Wisdom.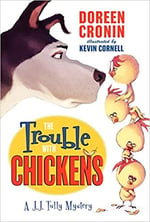 7. The Trouble with Chickens: A J.J. Tully Mystery by Doreen Cronin
Recommended by Lower School Technology, Innovation, and Design Integrator Jen Garvey
For ages 7-11
From the Publisher:
From the bestselling, award-winning author-illustrator team of Doreen Cronin and Kevin Cornell comes the first book in a heavily illustrated, hilarious chapter book series about the adventures of a dog detective. Perfect for fans of Sara Pennypacker's Clementine series and Jarrett J. Krosoczka's Lunch Lady series.
J.J. Tully is a former search-and-rescue dog who is trying to enjoy his retirement after years of performing daring missions saving lives. So he's not terribly impressed when two chicks named Dirt and Sugar (who look like popcorn on legs) and their chicken mom show up demanding his help to find their missing siblings. Driven by the promise of a cheeseburger, J.J. begins to track down clues. Is Vince the Funnel hiding something? Are there dark forces at work—or is J.J. not smelling the evidence that's right in front of him?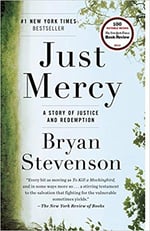 8. Just Mercy by Bryan Stevenson
Recommended by Upper School Head Daisy Savage
For ages 12+
From the Publisher: Bryan Stevenson was a young lawyer when he founded the Equal Justice Initiative, a legal practice dedicated to defending those most desperate and in need: the poor, the wrongly condemned, and women and children trapped in the farthest reaches of our criminal justice system. One of his first cases was that of Walter McMillian, a young man who was sentenced to die for a notorious murder he insisted he didn't commit. The case drew Bryan into a tangle of conspiracy, political machination, and legal brinksmanship—and transformed his understanding of mercy and justice forever.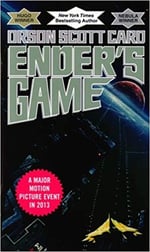 9. Ender's Game by Orson Scott Card
Recommended by Director of Finance and Operations Andrew Schneider
For ages 11+

From the Publisher: Once again, the Earth is under attack. Alien "buggers" are poised for a final assault. The survival of the human species depends on a military genius who can defeat the buggers. But who? Ender Wiggin. Brilliant. Ruthless. Cunning. A tactical and strategic master. And a child. Recruited for military training by the world government, Ender's childhood ends the moment he enters his new home: Battleschool. Among the elite recruits Ender proves himself to be a genius among geniuses. In simulated war games he excels. But is the pressure and loneliness taking its toll on Ender? Simulations are one thing. How will Ender perform in real combat conditions? After all, Battleschool is just a game. Right?
10. The Hate U Give by Angie Thomas
Recommended by Upper School English Teacher Chelsey Carr
For ages 13+
From the Publisher: Sixteen-year-old Starr Carter moves between two worlds: the poor neighborhood where she lives and the fancy suburban prep school she attends. The uneasy balance between these worlds is shattered when Starr witnesses the fatal shooting of her childhood best friend Khalil at the hands of a police officer. Khalil was unarmed.
Soon afterward, his death is a national headline. Some are calling him a thug, maybe even a drug dealer and a gangbanger. Protesters are taking to the streets in Khalil's name. Some cops and the local drug lord try to intimidate Starr and her family. What everyone wants to know is: what really went down that night? And the only person alive who can answer that is Starr.
But what Starr does—or does not—say could upend her community. It could also endanger her life.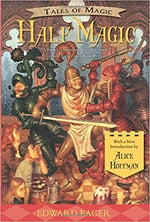 11. Half Magic by Edward Eager
Recommended by Upper School English Teacher Sarah Chan
For Ages 7-10
From the Publisher: It all begins with a strange coin on a sun-warmed sidewalk.
Jane finds the coin, and because she and her siblings are having the worst, most dreadfully boring summer ever, she idly wishes something exciting would happen.
And something does: Her wish is granted.
Or not quite. Only half of her wish comes true.
It turns out the coin grants wishes—but only by half, so that you must wish for twice as much as you want.
Wishing for two times some things is a cinch, but other doubled wishes only cause twice as much trouble. What is half of twice a talking cat? Or to be half-again twice not-here? And how do you double your most heartfelt wish, the one you care about so much it has to be perfect?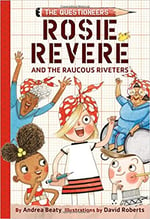 12. Rosie Revere and the Raucous Riveters by Andrea Beaty
Recommended by Upper School Science Teacher Genny Elias-Warren
For ages 6-9
From the Publisher: Rosie Revere is no stranger to flops and fails, kerfuffles and catastrophes. After all, engineering is all about perseverance! But this time, Rosie has a really important project to tackle—one that feels much bigger than herself.

Rosie's beloved Aunt Rose and her friends, the Raucous Riveters—a group of fun-loving gals who built airplanes during World War II—need help inventing something new. And Rosie is just the engineer for the job!

After one flop . . . then another . . . and another . . . Rosie starts to lose hope. But thanks to some help from her fellow Questioneers Iggy Peck and Ada Twist, Rosie gets the job done. And, along with the Riveters, she rediscovers the meaning of home.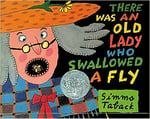 13. There Was An Old Lady Who Swallowed a Fly by Simms Taback
Recommended by Lower School Music Teacher Lisa Wichman
For ages 3-7

From the Publisher: Everyone knows the song about the old lady who swallowed a fly, a spider, a bird, and even worse, but who's ever seen what's going on inside the old lady's stomach? With this inventive die-cut artwork, Simms Tabak gives us a rollicking, eye-popping version of the well-loved poem.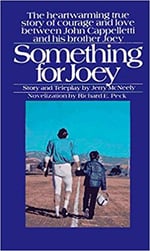 14. Something for Joey by Richard E. Peck
Recommended by Director of Athletics Dave Carlo
For ages 12+
From the Publisher: Together, they won college football's highest award. This is a true, memorable, compassionate story of courage and love between two brothers. In 1973, while John Cappelletti was winning the Heisman Trophy as the outstanding college football player in America, his younger brother Joey was suffering from leukemia. But John, now a running back for the Los Angeles Rams, had a very special medicine for Joey. It was called touchdowns. And John scored them in bunches because they were "Something for Joey." The story of the Cappelletti family is a story of courage you will never forget.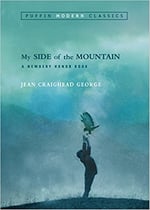 15. My Side of the Mountain by Jean Craighead George
Recommended by Woodworking Teacher Mark Mortensen
For ages 9-12
From the Publisher: Sam Gribley is terribly unhappy living in New York City with his family, so he runs away to the Catskill Mountains to live in the woods—all by himself. With only a penknife, a ball of cord, forty dollars, and some flint and steel, he intends to survive on his own. Sam learns about courage, danger, and independence during his year in the wilderness, a year that changes his life forever.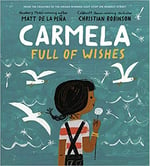 16. Carmela Full of Wishes by Matt de la Peña
Recommended by Librarian Mary Kate MacVicar
For ages 4-8
From the Publisher:
When Carmela wakes up on her birthday, her wish has already come true—she's finally old enough to join her big brother as he does the family errands. Together, they travel through their neighborhood, past the crowded bus stop, the fenced-off repair shop, and the panadería, until they arrive at the Laundromat, where Carmela finds a lone dandelion growing in the pavement. But before she can blow its white fluff away, her brother tells her she has to make a wish. If only she can think of just the right wish to make.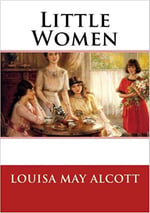 17. Little Women by Louisa May Alcott
Recommended by Lower School Head Nina Sharma
For ages 7-13
From the Publisher: Little Women is a novel by American author Louisa May Alcott (1832-1888), which was originally published in two volumes in 1868 and 1869. Alcott wrote the books over several months at the request of her publisher.Following the lives of the four March sisters-Meg, Jo, Beth and Amy-the novel details their passage from childhood to womanhood and is loosely based on the author and her three sisters.